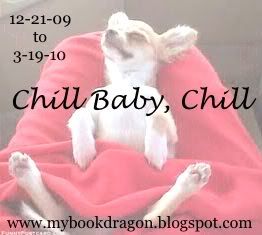 The Chill Baby, Chill Challenge runs from 12/21/09 through 3/19/10 and is being hosted by Book Dragon at Book Dragon's Lair.
The rules are extremely easy…just read 6 books…they can be anything you want…other challenge books, new books, TBR books, etc. You don't have to list them early. If you review your books…post a link in the comment section. Then do a wrap-up post in March. That's all there is to it!!
This challenge seemed pretty simple and it's always good to have an easy one mixed in. Since I joined late, I will only count books started on or after December 31, 2009.
My List: